FOR COMPANIES
Wakivaky products can be purchased via our business partners (B2B distribution channel) or throughout our e-shop. All prices listed on Wakivaky e-shop represent end user price (EUP) for an individual customer. Final prices do not include shipping. You can find more detailed information about sales conditions, payment methods, transport, warranty, return and complaint of goods in the General Terms and Conditions.
Purchasing and ordering via our partners' trade and distribution channels is preferred according to pre-agreed conditions. Partnerships with the new business and distribution partners are precised on selected conditions, followed by selection and verification of each potential partner.
If you want to become our partner, you can reach us on the following email: biznis@wakivaky.eu.
Wakivaky is a manufacturing company with an environmental and social dimension. We guarantee upcycled materials sources that are basically marked as unused. Most of the companies are not able to handle these materials and therefore they would end up in the category of waste, i.e. as another environmental burden. Our approach represents a new dimension for companies to use these materials. We believe that this is the way to generate a real benefit for companies, citizens and society.
BENEFITS for all companies
All benefits generated by us are tied to each of our products. In addition to the basic utility value, our products also contain other values ​​with which we address several social topics*:
Upcycling
Recycling
Support for disadvantaged groups
Reducing emissions
Those features can be transferred into the corporate environment to strengthen environmental and socio-economic activities and outputs.
Did you know that, for example, our packaging for a 14" laptop uses more than 94% upcycled material, mainly from the automotive sector, for which it finally does not end up on as a disposal? In addition, the small waste is generated in our production during the cutting of materials further sorted and recycled.
These measures, together with our optimised production procedure and savings on unrealized logistics and consumption of complementary material, generate savings of more than 40kg of CO2e emissions per product.
Moreover, most of the activities in our own production are carried out by local employees mostly from disadvantaged groups like sewers i.e. every customer contributes more than 1/3rd of the product price directly of these persons wage.
Wakivaky as a gift or corporate merchandising
Our products are designed for personal consumption. Most of them are made for leisure (small and large backpacks, backpacks), however our portfolio also includes office products (cases for laptops, documents, or beanbags for extended spaces or exteriors).
Does your company want to be a co-creator and build its own positive track on our environment and share this idea with your partners or employees?
Branded products with the company's logo are fully greeted and can be modified according to your specific needs.
(Note: Individual orders are available from over 500 pieces).
Upcycling and recycling workshops
Raising the topics of upcycling and recycling is part of our mindset, as we see an opportunity and we try to call for changing the way we live and think. We strive to share and nurture an importance of reducing the CO2e as well as looking for the effective ways how to
treat the redundant materials with perspective of the new usage.
Is your company ready for ESG reporting?
The need for ecological transformation in business, increasing transparency and their subsequent integration into the corporate strategy has been growing. In May 2022 the EU published a new act regarding sustainable development. This document primarily refers to environmental and social issues. According to this new regulation effective from 2023, every company with turnover over EUR 40 million and with more than 250 employees will be obliged to report the impact of its activities, e.g. on the environment according to common European standards for ESG reporting. Companies will be obliged to publish data, e.g. referring to the amount of CO2e emissions, consumption of raw materials and waste production, as fundamental areas supporting the circular economy.
The good news is that we at Wakivaky bring solutions applicable as a result to ESG reporting standards.
Cooperation with Wakivaky can be a solution
Let's talk about projects or cooperation that bring synergies that make sense for you.
Contact email biznis@wakivaky.eu
Wakivaky products are primarily made by mass production connected to pre-planned batches linked to the current availability of upcycled materials. Any individual requests or modifications are the part of our business offer; however, it has come first via internal assessment to identify available resources.
Individual development itself is a time- and financially demanding process. For this reason, we require several guarantees from clients who are interested in these individual services and, in selected cases, a binding order and advance payment. The price for the development as well as the duration of the development depends on the type and difficulty of the assignment and also on the volume of the final production, i.e. from manufactured pieces.
The good news is that WAKIVAKY has its own in-house development department. Moreover, this department is directly connected with production capacities. This is also why we guarantee demanding clients that the development process and the client's individual requirements will be served and equipped in the shortest possible time, with the highest possible quality and satisfaction.
Luxury original products for your employees or customers?
We also made customised products developed via our own R&D. How this works? We can propose an original product design to the client (or together with client) for example, a company logo. Even company can use its own material e.c. discarded marketing carriers advertising banners, sheets and other textile or PVC material, that we are happy to transform into a new product. As a result, your company become a represent of circular economy with its own branded materials that can be given as a original presents or merch.

Each Wakivaky product that reaches the hands of customers contains several additional information that are placed on the label or are part of the product packaging.
Every product has also the necessary labelling including the EAN code, explanatory icons that describe the individual pillars and care symbols of the products. By purchasing selected products, the customer also receives a voucher for a discount on the next purchase.
EAN is an abbreviation for European article number - numerical and bar code. We use the EAN-13 code to label our products.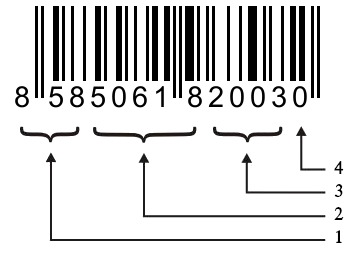 Numbers 1-3: prefix of the country (Slovakia 858) where the goods were manufactured.
Numbers 4-8: indicate manufacturer numbers (Wakivaky 50618).
Numbers 5-12: indicate the product number. It is assigned by the manufacturer himself within the assigned range.
Digit 13: a digit used to check the correctness of reading the barcode.
6) Voucher
A discount voucher can be included within the purchased product. You can get this one-off individually during your next purchase through our e-shop.

General conditions of use for the voucher:
the voucher can only be used once and only for one purchase,
the voucher is transferable to another person,
the voucher cannot be combined or cumulated with other product discounts,
the voucher is valid until the due date stated on it until 11:59 p.m
How to register a voucher
By registering a Voucher, we mean using it when making a purchase in our e-shop. Follow the purchase process and request to redeem the voucher by entering the identifier (voucher number) in the field during purchase.
UPCYCLING
Upcycling represents a new and usually full use of unused and/or redundant material. For us, upcycling represents the basic idea on which our model is built. We believe that we utilise it and at the same time extend the time of its use. The essence of upcycling is also our slogan:
"Second life for textile" which also gave rise to the name of our internal project Selitex.
Thanks to our creativity, new practical products with added value for several target groups are created from upcycled materials.
Thanks to upcycling, the lifetime of materials is extended, the volume of waste is reduced, and this directly eliminates several negative impacts on the environment.
The logo we use for upcycling means that most of the material used to make our products comes from upcycled materials.
RECYCLING
Recycling represents the process of collection and transformation of waste material into a new basic material or raw material. This raw material or recycle is subsequently used in the production of new materials and/or semi-finished products, i.e. basic products. Recycling mainly contains the need for the extraction of mineral raw materials (oil), or the cultivation and acquisition of basic raw materials (cotton). Recycling is a fundamental element in the operational economy. Thanks to recycling, the basic material will be reused, i.e. raw materials.
The logo we use for recycling means that we modify the remaining and waste material from our production into recycle and thereby move further recycling. We can use part of such raw materials, i.e. recycle directly (seat bag filling, etc.).
EMISSIONS
Emissions are technically anything that is released into the environment, such as vibrations, gases, dust particles, radiation, fumes, chemicals, etc. Today, the most discussed are greenhouse gas emissions causing the warming of the planet (greenhouse gases, carbon dioxide CO2 and other gases). These are mainly emissions and gases originating from transport, industrial or animal production, emissions arising from the extraction of mineral raw materials, etc. For a better comparison, the emissions of various substances are converted to the so-called CO2e equivalent.
Each of our products contributes to reducing emissions, i.e. creates savings in emissions or contributes to the reduction of the carbon footprint. For example, more than 94% of upcycled material is used in our packaging for a 14" laptop, which directly eliminates primary production processes that are energy-intensive, reduces the volume of extraction and processing of basic raw materials, and significantly reduces the volume of transportation. Together, these measures generate savings of more than 40 kg of CO2e emissions just in the production of one WAKIVAKY FAINCASE cover for a 14" laptop.
The logo we use for emissions means that our products directly contribute to reducing the volume of greenhouse emissions.
DISADVANTAGED GROUPS
Most of the activities in our production are performed by workers from disadvantaged groups. These are pensioners, mothers and fathers on maternity leave, or persons providing special care to one or more members of the household, persons with disabilities, persons living in less developed regions, or persons with limited access and more difficult employment on the labor market. They are mainly used in production and logistics. By involving disadvantaged groups in the production process, we directly help improve the socio-economic situation of these people. At the same time, every customer supports the principles of fair trade by purchasing our products.
The logo we use means that we work with people from disadvantaged groups. The customer contributes more than one third of the product price directly to the wages of these persons and supports the principle of fair trade.
As we want the products to last as long as possible for our customers, it is necessary to follow the basic principles of usage and maintenance. These represent the brands that we present on the label in each product. Individual brands mean:
| | |
| --- | --- |
| | Do not wash. Careful handling when wet. |
| | It must not be bleached with means that release chlorine. |
| | Do not tumble dry. |
| | Do not iron. Steaming and steam processing is not allowed. |
| | Do not dry clean. |
It is advisable to clean the purchased products with a slightly moistened cloth or with a mild natural soap.
Due to the fact that we also employ disadvantaged groups of people, in our portfolio you will find quality products in categories A and B.
Products in quality A - from the point of view of quality and design, they are in a state where they show minimal deviations from the required state. Output control monitors dimensional tolerances, sewing quality, aesthetic appearance, functionality and strength of joints, incorporation of accessories, weight and other defined parameters. The only thing that we cannot guarantee, and therefore may have a deviation during quality control, is = the quality of the surface of the upcycled material, its colour and tolerances for material thickness. Small deviations, however, are certainly balanced by the feeling that by purchasing the product we helped to upcycle material that could otherwise end up as surplus, without further use and often in an incinerator or a landfill.
Products in quality B - from the point of view of quality and execution, they are in a condition where they show the tolerances set by us, and therefore may have deviations from the desired condition. These are mainly minor deviations in the joining and stitching of materials. Usually, these deviations are visible to the naked eye. Nevertheless, the products marked in this way are fully functional. Quality B products are mainly the output of the work of disadvantaged people with whom we work. By purchasing a product labelled quality B, the customer buys a product with tolerated deviations, but with the knowledge that a significant part of the purchase price represents the wages we pay to the disadvantaged person who produced the product.
We present the basic use of our brand in a practical pdf manual.

If you wish to receive more business information, contact us during working days from 9 a.m. to 3 p.m.
Customer support:
eshop@wakivaky.eu, +421 915 151 063.
Contact for companies and wholesalers:
biznis@wakivaky.eu, +421 915 151 063.